Vulkan Vegas Tournaments
Tournaments in Vulkan Vegas casino are a competition of players from all over the world, where the most professional and lucky ones get a real money reward. The list of more than 10 games and slots with a detailed description can be found on the official site in the section "Tournaments", which is located in the top header of the site. 
The list of events is regularly updated. To become full members, each user has to pass ten qualification games, after which he/she can take his/her place in the race for the main prize. If you lose, you can get some of your money back.
How to join online tournaments?
You don't even have to pay an entry fee to become a full gambler in the competition, because you agree to participate simply by qualifying for any of the available games. Every dollar you earn is a game point that will propel you higher and higher in the rankings. It's simple enough. Follow our step-by-step instructions:
Step 1 – Register your account on the Vulkan Vegas platform or log in to the one you've already created;
Step 2 – Verify your account;
Step 3 – Make your first deposit;
Step 4 – Check the "Tournaments" section on the homepage;
Step 5 – Select any game you are participating in;
Step 6 – Play ten qualifying games using your deposit;
Step 7 – Play and earn game points for every dollar you win.
After completing all these steps, you automatically become a full member of the event and can compete for the grand prize of 5000 euros. Based on the mechanics of the event, the surest way to win is to play as often as possible and get more points.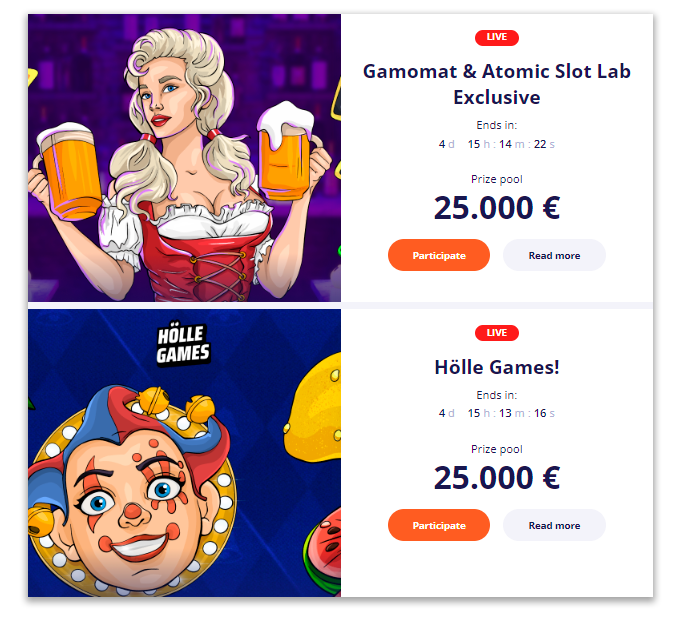 What prizes can I win in tournaments?
The prize fund Vulkan Vegas Casino tournament is as much as 25,000 euros, which is divided into 20 prizes. The prize for the first place is €5,000, for the second place you will get €4,000, and for the third place – €3,000. We wish you a victory!