Vulkan Vegas – How to create a personal Account
Our Casino is a great opportunity for the players in Canada to enjoy the online casino experience. This online casino offers various rewards and features, which helps attract customers from all around the world, making it one of the best online casino platforms.
To start playing here you need to perform two simple steps:
Register as a new player;
Sign in to your personal account;
It is also recommended to verify your account.
On this page, we will tell you all the details.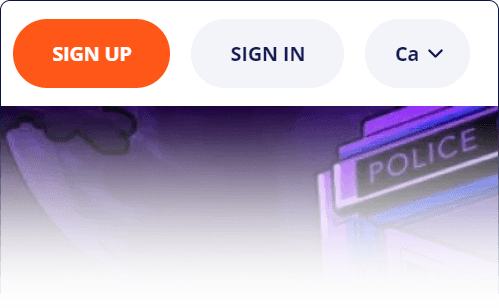 Vulkan Vegas Sign Up
The platform offers a demo version for the players who want to try playing for free. Those players do not need an account.
But for the players who want to gamble with real money, must register themselves.
Note: You must be over 18 years old for gambling on our platform.
Steps guide for registering here:
Step 1 – Go to the official Vulkan Vegas website.
Step 2 – On the right side of the main page, you will see a registration tab. To create a new account, click on the "Sign Up" button.
Step 3 – Fill in the required information including your email and password. You also need to select the currency. For Canadian users, click on CAD.
Step 4 – Specify check points that you agree to the terms and conditions of the online casino, as well as that you are over 18 years of age.
Step 5 – You will be sent an email to the mentioned email address. Open the email and click on "Confirm my email". All done. You have successfully joined our community.
You can get a welcome bonus upon registration.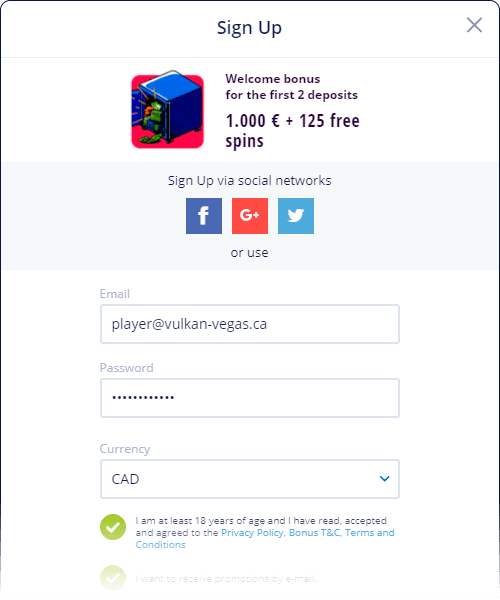 Registration through Mobile Phones
If you prefer to use cell phones, then we want to tell you that our casino is fully adapted for devices on Android or iOS and you can easily pass registration.
In this case, it is not different from the previous point:
Open your mobile browser, such as Chrome or Safari.
Navigate to our website
In the upper right corner you need to open the menu
Select Sign Up
Fill in the mandatory fields for registration (email, password). And don't forget to mark that you are over 18 years old and agree to our conditions.
Confirm your email.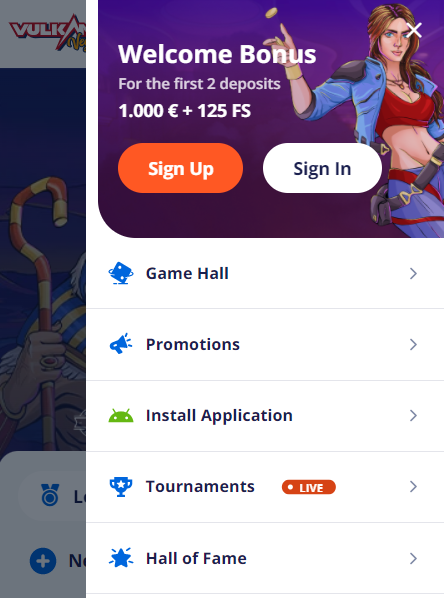 Sign Up via Vulkan Vegas Mobile app
Vulkan Vegas has also launched the mobile application. The players have access to all the games that they can play on their desktop, but with various added features. The app is only compatible with Android users. For iPhone users, the application is currently under development. The registration via mobile app is quite like the desktop version:
Download the Mobile App from the official website or just use the mobile version with a browser;
Open the app and click on the "Sign Up" button;
Fill in your data (email and password) and click on the orange button.
Confirm your email address.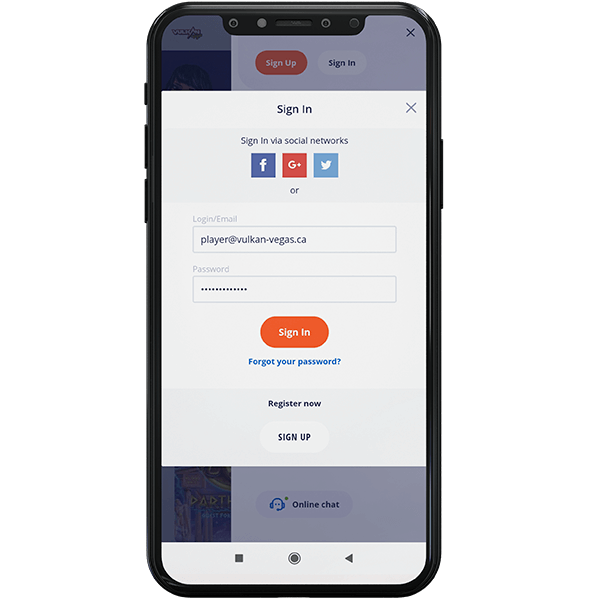 Using social networks to register
For players who do not like the long registration or filling out unnecessary data, we offer a unique opportunity – registration through social networks.
All you need to do is to choose the Sign-Up button and log in through one of the social networks that we offer:
The player will be redirected to an account confirmation page – you need to confirm that you allow our site to use your personal social network data to register at the casino.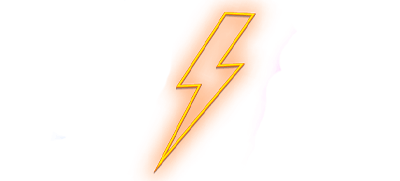 Video guide about Sign-Up and Sign-In process
If a player does not have the opportunity to read the information about registering at Vulkan Vegas, which we wrote above, then we have especially for him prepared this video.
How to Connect Vulkan Vegas
The biggest advantage of the register is that you will always be updated on all the rewards and offers. If you managed to register, but then left our Vulkan Vegas casino, then the new login will need to re-enter.
The complete procedure is mentioned below:
Visit our official website.
Click on the sign-in tab. It will pop up a form for you to fill. You need to fill the form with your credentials (Your Email and Password). You can also enter through social media platforms.
After that, you can make a deposit and enjoy the game!
For the users, who are unable to enter the correct password, the process of recovering it is quite simple. You need to click the "Forgot your Password?". Then you would be asked for your email. A link will be sent to your email, which will redirect you to a window where you will be able to reset the password easily.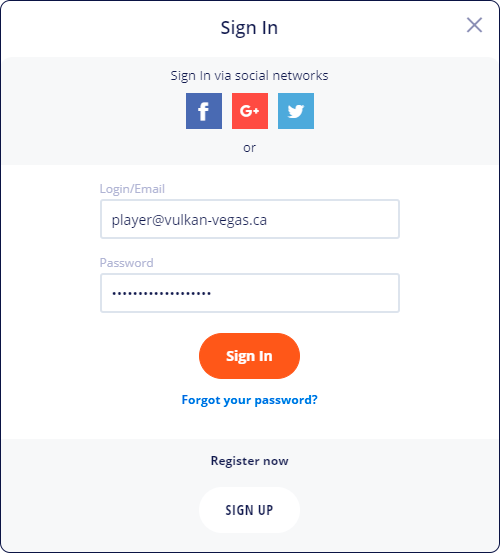 How to Use your Personal Account
Now we'll tell you what's in the personal cabinet and what useful links you'll find here.
Profile. Here you can see your current balance, bonus balance, also your live account balance and how many loyalty points you have from our casino. There's also a link to verify your account and gaming transactions.
Bonuses. Here you'll find all the bonuses offered by our online casino. Newcomers here will be able to activate the welcome bonus.
Deposit. Tab for making deposits. Select a convenient method for you and replenish your balance.
Withdraw. The tab for successful withdrawal of funds from your account. Before you withdraw funds you need to specify your personal data and pass the verification of your account.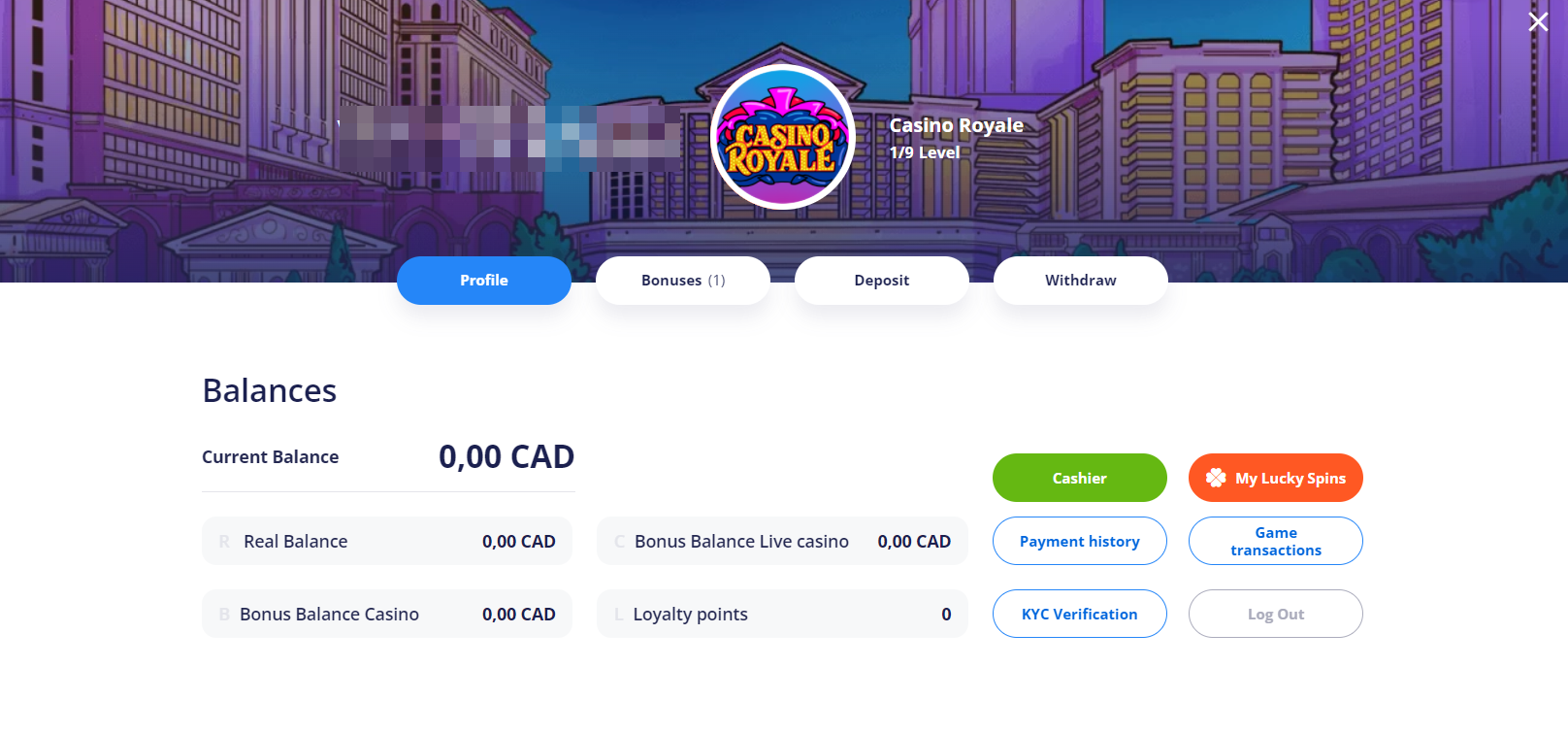 KYC – How to verify your account
In order to confirm and verify your account, follow these steps:
Go to your profile and open the KYC Verification tab.
Read the terms and conditions.
Select the document from which you want to verify, such as National ID Cards, Driving Licenses or Selfie with ID and upload a photo.
Confirm your address.
Confirm your payment system.
If you think you would like to add any additional document to verify your identity, you can do so in a separate tab.
Send us these documents.
It takes a few hours to review your documents.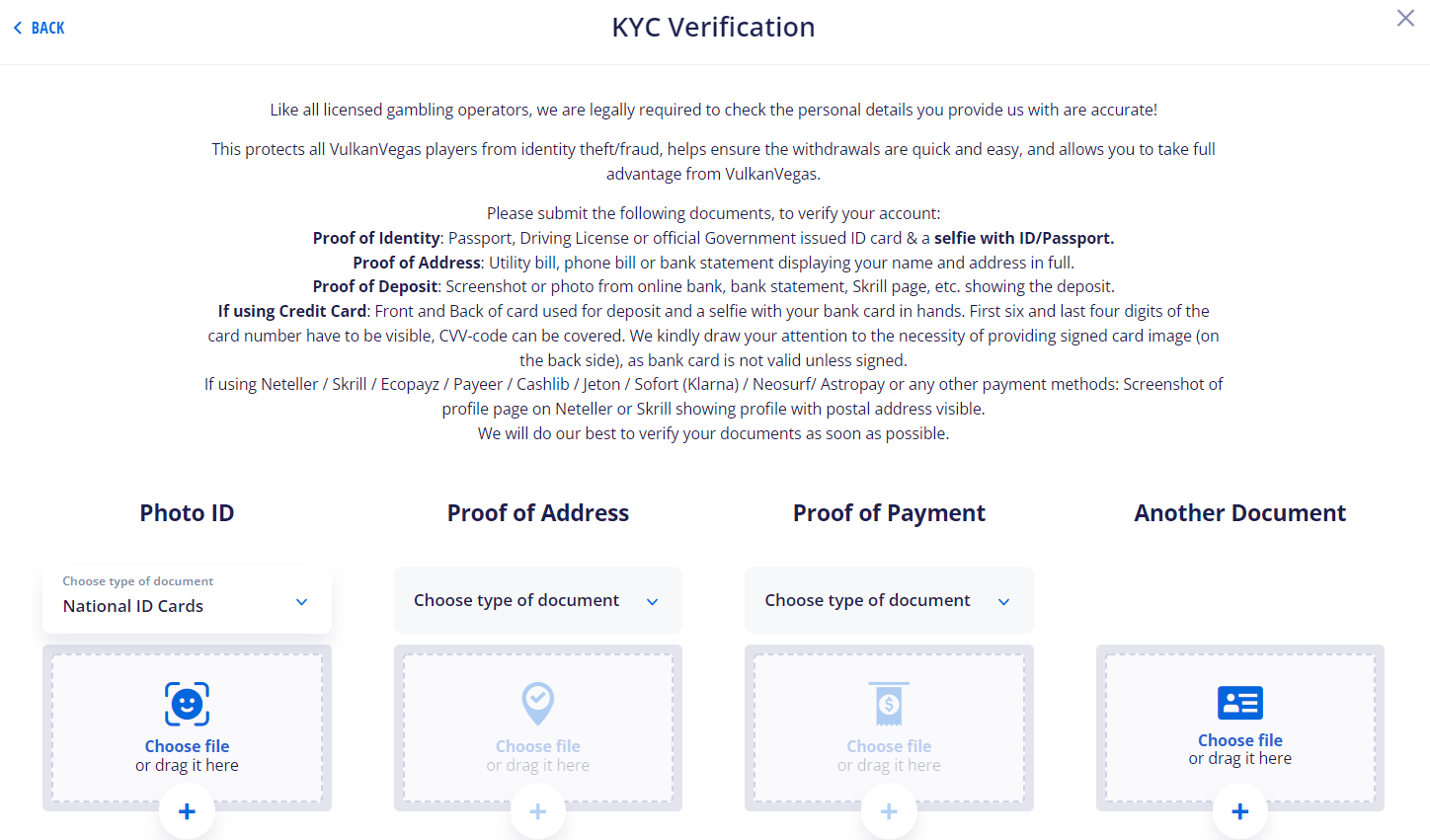 FAQs
Here is a list of some of the frequently asked questions by our player:
I forgot my password. What should I do?
Click on "Forgot your Password". An email will be sent to your email. Once you click the link, you will be redirected to a window where you can enter a new password.
How do I change my Email Address?
Due to some reasons, the players cannot change their email addresses. But, for those users, who need to change their email address, they can
contact customer support
, and discuss their issue.
What is the Verification? Do I need to pass it?
When a new user registers on the Vulkan Vegas Casino, an email is sent to their email address. They must click on it to verify their account. Yes, it is essential if you want to play for real money.
What age should I be to register?
The minimum age required to register with Vulkan Vegas for Canadian users is 18 years. So, if you are under 18, you cannot register.